Balanced performance for nearly any workload
NZ Cloud Servers are ideal for general workloads and include a balanced array of resources that support a wide range of cloud applications. From personal projects to enterprise applications, Cloud Servers can handle it.
Perfect for Most Workloads
Whether you're running a website, Cloud PBX, Database, Terminal Server, or back office apps, Cloud Servers are the obvious choice for most workloads.
Tailor the Configuration
Start with 1vCPU and 1GB of RAM and increase all the way up to 8vCPU and 64GB of RAM to match your workload requirements. No defined plans, means you can scale the server resources to exactly match your requirements.
High Availability Cluster
Eliminate downtime for Mission Critical Applications with fail-over protection built-in to all Cloud Servers. VMware High Availability restarts workloads on another host within the cluster in the event of failure.
Cloud Servers
14 Daily Managed Server Backups
Unmetered Data Transfer (Fair Usage Applies)
/29 Network Assignment (5 Usable IPs)
New Zealand Data Centre
VMware Powered
Configure Server
Cloud Servers - Flexible & Dependable

Managed Server Backups
All cloud servers include automated 14 x daily snapshots. Restores and on-demand snapshots available upon request.

Faster-than-SSD
Get maximum IOPs with our blazingly fast storage built on high-performance optimised SAS SSDs.

Built to Scale
Easily add resources as you grow. Flexible server configurations means you only pay for the resources you need.

Uptime Guaranteed
Rock solid, we guarantee it. We don't think you should have to pay more for guaranteed uptime, that's why all our servers are backed by our 99.98% Uptime SLA.
Predictable Pricing - Straightforward, everytime
Leave complex pricing structures behind with our competitive, simple and predictable pricing. Voyager makes budgeting for your cloud infrastructure easy. Always know what you'll pay each month.
View Pricing
Voyager Cloud - Built for Business

VMware Powered
Voyager Cloud is powered by VMware, the global leader in virtualisation and cloud infrastructure.

Always Online
High availability is at the core of Voyager Cloud. If a compute node fails, workloads will automatically restart on another node within the cluster providing your application with high-availability features out of the box.

New Zealand Data Centres
Voyager cloud clusters are housed in secure, state-of-the-art data centre facitilies in Auckland and Christchurch.

Simple & Predictable Pricing
We keep pricing simple and predictable, with server pricing that makes sense. No confusing invoices, and no surprises at the end of the month.
Simple & Predictable Pricing
We keep pricing simple and predictable, with server pricing that makes sense. No confusing invoices, and no surprises at the end of the month.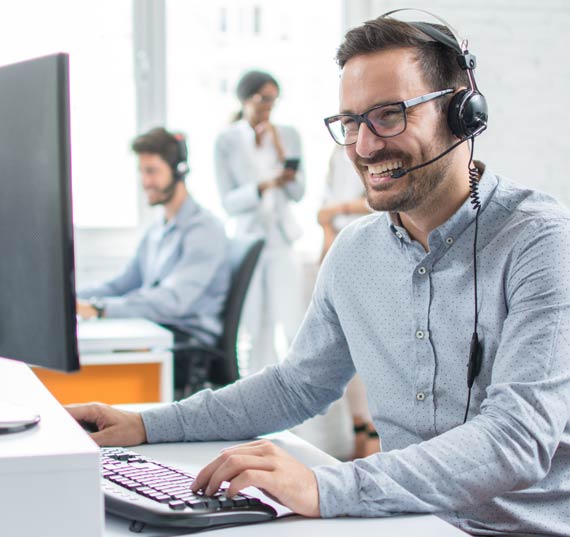 Why choose Voyager?
We are your digital transformation partner. From registering a domain name, getting online with fast internet, voice solutions through to helping you transition your business to the cloud, we've got you covered.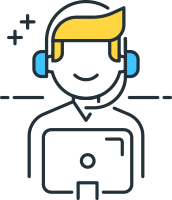 Great Support
Our Helpdesk is always available to help. We operate 7 days a week from 8am-10pm. We aim to answer 80% of calls within 60 seconds, so you won't be left waiting!

One Bill
We've got everything you need to get business done online. Improve efficiency and productivity with one point of contact for purchasing and support and one simple bill for all your online services.
We make it easy, get started now!
Frequently Asked Questions
Find answers to commonly asked questions about our service.
To create a cloud server, we take a high performance physical server and use VMware virtualisation to create a number of 'virtual machines' on the physical host server. These are cloud servers, each possessing its own dedicated RAM, allocation of CPU power, in fact everything you would physically need to create a server. The hard disk space is provided by vSAN clusters (a super-fast, reliable disk storage solution), unlocking the High Availability and performance balancing features of Cloud Servers that allows servers to be moved between different physical servers to maintain optimum performance of your application.
Finally, we install on each Cloud Server the operating system that you desire, Linux or Windows and then you have a Cloud Server. Each Coud Server is completely isolated and equipped with an independent operating system that you have full root/administrator level access to.
A cloud server is similar to a virtual private server (VPS) except it doesn't run on just one physcial host, it has the ability to run across many physical hosts and storage clusters. This unlocks high availabilty failover and performance features that are typically not found on lower cost VPS plans.
That's why our Cloud Servers are backed by our 99.98% Service Level Agreement, guaranteeing uptime for your mission critical application.
Yes, all servers receive Root / Administrator level access to the server Operating System.
We support a standard set of OS templates, but can also deploy any custom OS from supplied images if you have something custom you wish to deploy.
Our standard templates:
Windows Server (2019/2016)
CentOS
Debian
Ubuntu
openSUSE
Yes you can! We don't believe you should be confined to a limited set plan of server resources. Our calculator allows you to configure a server with the exact server resources you require which means you only pay for what you use, and can scale as you grow.
Yes. In most cases, Cloud Servers can have their CPU, RAM and Disk Space upgraded without downtime. This is sometimes dependant on the Operating System and file systems used.
We will advise and plan a time to schedule an outage with you if a reboot is required.
Voyager Cloud leverages VMware vSAN, enterprise-class storage virtualisation. Faster than SSD performance is achieved by using a distributed array of high performance SAS SSD drives.
Your data is stored on a secure, clustered vSAN array which replicates your data to numerous disks and multiple physical servers. Our enterprise vSAN can sustain multiple simultaneous failures without any any noticeable difference in service.
A major benefit to Voyager Cloud Servers is that all servers include managed backups and are automatically backed up off-site daily for 14 days.
This eliminates the need to estimate additional costs of backup storage or replication policies and provides peace of mind that your data is protected.
We still recommend that you perform your own backups for critical data, such as databases or content that changes frequently. Once a day backups may not be enough to prevent data-loss depending on your application.
By default, our Cloud Servers are provisioned to the Voyager Cloud cluster based in our Auckland Data Centre. Upon request, we can provision to our Christchurch cluster for redundancy and diversification.
Cloud Servers offer the highest uptime guarantee out of all our hosted server options and are backed by a 99.98% application availability, and 99.99% network availability commitment. Review our Cloud Server Service Level Agreement.
Our Sales Executives are available on 0800 477 333
We're here to help you - 8am to 6pm Monday to Friday
Enquire