How MoneyHub helps NZ save money and improve finances

Information is now so abundant thanks to the internet, that ironically it can actually feel overwhelming to try and sift through endless search results, countless different opinions - and indeed to separate trustworthy sources from otherwise.
When it comes to money and our finances, some kiwis have always been mindful about their financial decision making, some don't know how to do anything except spend (including money they don't actually have) - and the rest of us likely fall somewhere in between those two extremes.
Thankfully there are more websites emerging such as Sorted and others, which help demystify money for New Zealanders, and which provide detailed insights into what our decisions on savings, loans and the like are going to mean for our financial situation.
Today I'm talking with Christopher Walsh, the founder of MoneyHub - which since launching in 2018 has quickly built up a vast library of financial guides, reviews and recommendations to help kiwis understand the impact of their financial decisions.

So let's get into it, and see what MoneyHub is all about - and also get some insight into what makes the company tick.
What is MoneyHub, and who is it for?
MoneyHub is a financial resource website that helps New Zealanders of all ages and backgrounds make better decisions by publishing thoroughly researched guides and resources.
We aim to save people money and help them make informed personal finance decisions by giving them access to comprehensive and easy-to-understand information.
What led you to start MoneyHub?
I believe information should be free and accessible without restrictions. Personal finance decisions are confusing for most New Zealanders, so I wanted to create a trusted source of information that summarises products, services and fine print and explains them in plain English.
We kicked off in early 2018, intending to become a trusted source of helpful information.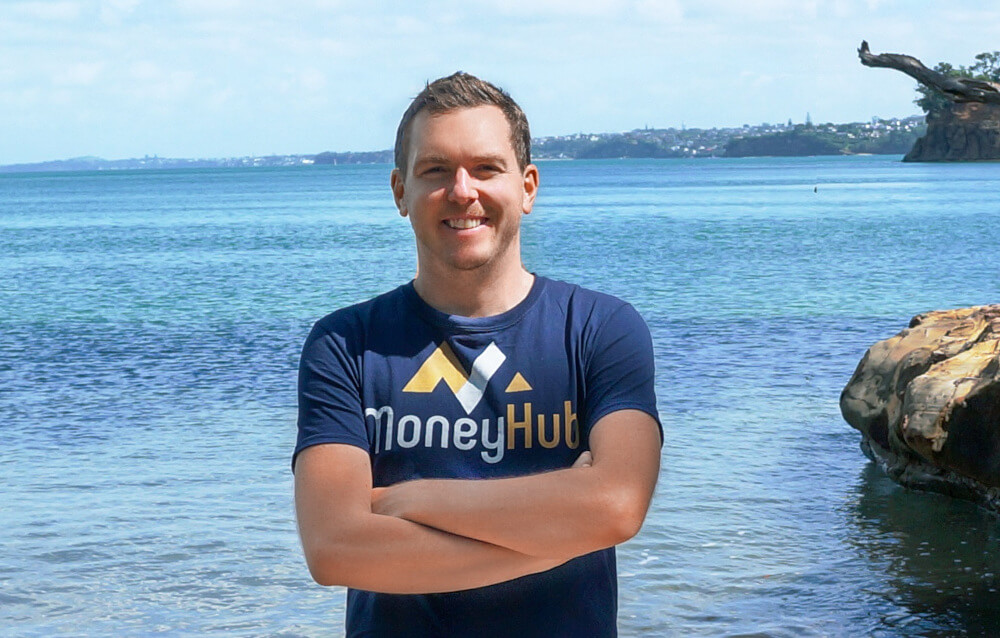 I understand the site is largely created by yourself, supported by a small team of four, and some freelance researchers? Can you give us some insight on how you might decide to add a tool or piece of content and how the content creation process works for your team?
We are a small but highly effective team. When MoneyHub started, we published guides and tools based on what I believed was most underserved. However, in the last couple of years, our increased user base means our 'fans' tell us what they want to see.
In the very competitive landscape of financial services and associated websites, what gave you the confidence that you could create a site which would be able to get the attention (and credibility) you no doubt hoped it would?
I believe that if something is helpful, thorough and complete, it will meet people's needs. If you do that hundreds of times, you have something that can help a lot of people.
My background is research for an investment bank, so accuracy is always the priority.
MoneyHub content shows up for numerous extremely competitive financial search terms in Google, which is very impressive to see. No doubt this is aided by your own finance industry experience, very thorough research, and the mountains of valuable content you have published on your site! What have been some of your own insights gained as you've worked to improve your visibility in these very competitive spaces since launching?
My view is simple – if we publish a guide, it has to be the best it can be. It can't be 'average' or 'to be improved later' etc.
We never publish second-rate information because we know we're only as good as our last guide.
I've learned during the journey of MoneyHub that nothing is irrelevant as long as it's useful. We research and publish on everything that helps people. If it doesn't help anyone, it has no purpose and is best avoided.
How has visitor feedback influenced the type of tools and informational content you and your team have been adding to the site over time?
We have hundreds of thousands of users visit us every month, which means even if 1% of 1% contact us, we get a lot of feedback.
We always get new ideas from our users, and we're also looking at what's related to what we already have. Together, we're able to grow our reach and diversify our offering without going 'off-brand'.
Obviously, the internet has enabled MoneyHub to be created and has meant you've been able to reach large numbers of New Zealanders to provide them with the most comprehensive free tools and information collection they need to improve their financial situation. How do you think about the website itself and making the most of search engines, social media and other methods to expand your audience?
We don't do anything actively with social media, so I can't talk to that.
We rely on search and referrals within the many industries researched.
Our guides have been featured by NZHerald, Stuff, NBR, RNZ, newsroom and The Spinoff and are all frequently linked back to MoneyHub guides. This helps us with building our trust among millions of New Zealanders.
How does the MoneyHub team work – are you all remote, or in an office?
We are remote. Well before COVID-19, I have always advocated flexible working.
The team loves the relaxed nature of what we do – ultimately, we don't have deadlines or many meetings; we build our reach organically and publish when it's 100% complete.
What are some of the tools your team use day-to-day to help communicate, build and maintain MoneyHub?
I swear by Xero, Google Workspace (email), Asana and Mailchimp.
I also like Kiwibank's user experience and the (endless) assistance of many government departments who we rely on for fact-checking and consumer insights.
On the MoneyHub site you have categories covering virtually every facet of kiwi's finance, from investing and saving, to loans and mortgages, KiwiSaver, credit cards, and dozens of other areas. How have you thought about which category or content to add to the site from when you first launched, and how has this changed as it has grown?
We grow the information to become an authority.
For example, to help New Zealanders understand Work and Income, we wouldn't just cover Jobseeker Support and Working for Families. Instead, we cover everything offered by Work and Income given the number of different services they offer.
We apply this approach to everything we do – if a certain topic is a bit light now, we will almost certainly have new related guides being researched and published very soon.
In terms of basic financial literacy, where do you recommend that kiwis start on your site if they're unsure about where they could be improving their finances? Obviously, you have numerous guides on specific areas of interest (no pun intended!), but is there anything you have to help clarify common areas that many kiwis are getting wrong to cover off first, for people looking for pointers on how to improve their financial situation?
MoneyHub is a good start, and our Money in a Nutshell guide is written for students but a good introduction for anyone.
I also suggest our debt help guide and our insurance section as there's lot of money to be saved by comparing.
I would strongly suggest Reddit's Personal Finance NZ board. That is a treasure-trove of information and well worth browsing. Best of all, the community is very friendly so you can ask any question and someone will help you.
I would also make the effort to read Stuff.co.nz and the Herald's business section as both publications offer personal finance stories that bring important issues into the public domain.
Where do you see MoneyHub going from here? I imagine you have a long list of content that you and the team are planning on publishing – have you considered also moving into other mediums such as a YouTube channel, or adding a Facebook group to build community discussion for example, or do you see the site as the sole focus going forward?
Our guides will continue to grow in number and, in my opinion, quality.
We're going into YouTube next – this is going to be a big project and will help support our reach.
There's no shortcut to building an audience and trust, so we'll keep doing what we do and grow our team to make sure we cover what needs to be covered.
I'm sure keeping your vast library of guides on MoneyHub updated with any changes due to new deals or availability must be a challenge – especially as the site continues to grow. How do you tackle keeping on top of this to ensure your visitors are getting the best information around?
We are very procedure-focused. Our research team will schedule reviews and updates daily, weekly, fortnightly, monthly or quarterly, depending on the guide and the risk that something may fall out-of-date.
We don't always get it right – thankfully, our network is large enough to ensure we're updated very quickly.
Thanks again for taking the time to give us some insight into this great resource you've created – is there anything else you'd like to add which we haven't covered?
I think that covers the foundations of MoneyHub.
We expect our users to triple over the next year, so there's a lot of work ahead of us. We keep a low profile professionally because our view is that our guides and resources have to speak for themselves.
Where can people get started if they'd like to learn more about MoneyHub and what they can do to make better financial decisions?
Log on to MoneyHub.co.nz and scroll around. You can also use the search button to find anything – chances are we have it, but if we don't, you can contact our team and tell us what you'd like to see.
Stay tuned for more interviews with innovative kiwis!
We've got more interesting discussions on the way, providing some insights into New Zealanders building all sorts of innovative products and services enabled by the internet. Stay tuned!