Answering the Call: Why Businesses Need to Consider the Customer Calling Experience
Good customer experience comes in a lot of forms, but even in this increasingly digital age, there is one step in the customer journey that can't be overlooked – the phone call. When customers pick up the phone, they are often at a crucial point; they may have a complaint, need urgent help, or have an important question that could influence their decision on whether or not to use the business.
That's why it's important for businesses to consider how every phone call is treated. Do you want someone to pick up right away? What happens when the phone isn't answered immediately? Would you rather have customers listen to a menu and choose where to direct their own call? How long do you want them to be kept on hold? Do you want them to be able to leave messages instead?
There are endless options when it comes to the customer calling experience, and businesses need to consider everything based on their unique customer requirements. That's where call flows come in.
What is a call flow?
A call flow determines how the customer experience is handled from the moment they dial your number through to the end of the call. Think of it like a map for the journey of a phone call; it directs the call where to go. The call flow dictates how the customer experiences the phone call from start to finish.
Here's a quick example of what a customer would experience in a very simple call flow:
Customer rings main business phone number
Call rings for 15 seconds as customer waits for an answer
No one available to answer; call directed to voicemail
Customer leaves message and hangs up
In the above scenario, the customer experience is designed so that any call not answered after 15 seconds automatically goes to voicemail where the caller can leave a message. This ensures that the customer is not kept waiting for a long period of time (when it's clear no one is available to pick up) before being able to leave a voicemail. The customer can then leave their message and hang up, knowing they were able to reach the business without wasting a long time on the phone.
Sounds simple, right? It may seem like a no-brainer, but often this small, crucial experience can be overlooked.
Why is a good customer phone experience so important?
Providing a good calling experience is vital to excellent customer service. When people ring, they expect to be able to resolve their situation or connect with someone as quickly as possible. Callers can get frustrated if they are left waiting on hold for too long, if a call rings for an extended period of time without the option to leave a message, or if they are sent into an endless loop of transfers. A phone call can often be a turning point in the customer journey - turning a lead into a sale or preventing churn - so it's important to make sure customers are getting the best possible experience. The last thing you want is a customer hanging up out of anger!
The moment the phone starts ringing, the customer is judging everything from how long they wait to who they speak with. To ensure a smooth experience, businesses need to think about every step along the way - from the customer's point of view.
Things to consider
Every business's needs will vary based on the nature of the company, but here are some general questions to ask yourself when you're getting started thinking about your customer's calling experience:
How long do you want callers waiting before they're presented with the opportunity to leave a message?
Is it more important for callers to be able to self-serve via menu options, or to speak to a real person?
Do you need a different call flow for certain times of day? (i.e., after hours or lunch times)
How many staff do you want to be available to answer calls?
Do you want the call to ring on multiple phones at a time?
At what point(s) do you need automated messages or announcements played?
Best practice calling experience tips
Every business's caller experience will be different because every company's needs - and those of their customers - are different. However, when it comes time to design your customer's calling experience, there are some best practice rules that should be followed:
Always ask "what's next?"

Consider every step in the customer's calling experience. What happens after they choose a menu option? Do they hear an automated message confirming their choice? What happens after they leave a voicemail? Do they have the option to ring another extension or do they just hang up? Think about every possibility from your customers' mindset and how you would like to handle each one.

Never let a call die

Allowing a call to ring and ring with no end in sight is a sure way to frustrate a customer!

All calls should end by being answered, either by a person or a voicemail

Ultimately, customers are usually ringing to speak with someone. If they can't speak with someone immediately, they want to be able to leave a message to have someone ring them back. This is almost always their end goal, so keep that in mind when designing the end of their calling journey.

Never create a loop

No Groundhog Day situations, please! Sending a customer into a repetitive journey of transfer after transfer with no way out is a one-way ticket to a poor customer experience. Be sure to provide an option like leaving a message or dialing another extension.
Example caller experience designs
The example we gave earlier is a very basic caller experience, but you can create one as simple or as complex as your business requirements dictate. Let's take a look at another example, this one from an auto mechanic: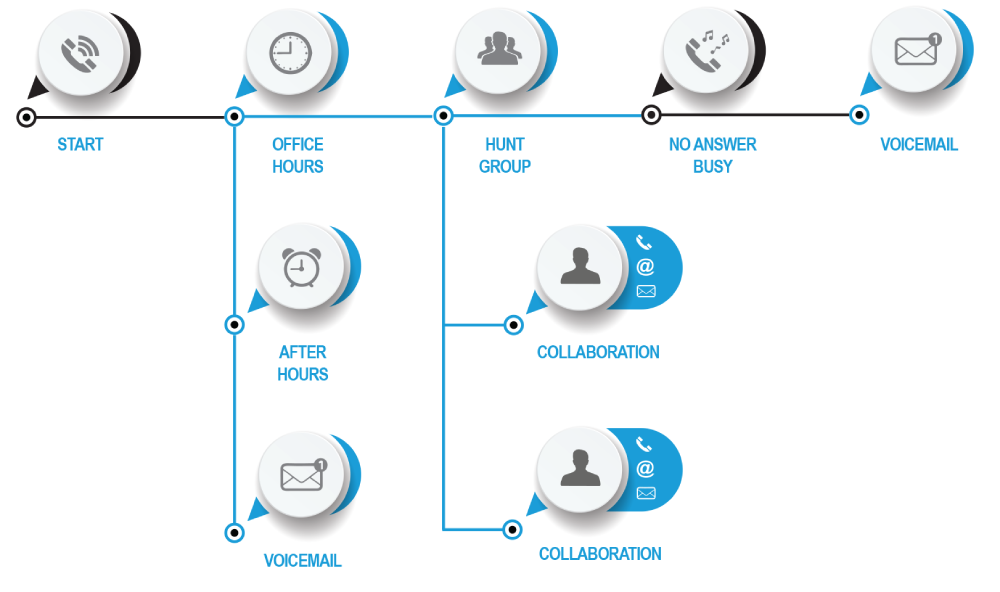 The shop has designed an experience in which phone calls received after hours are immediately directed to voicemail, leaving no doubt to the caller that they will need to leave a message. But within business hours, a call that comes in is automatically directed to a hunt group – a designated group of extensions that are first in line to receive a call. The call will ring simultaneously on all of these extensions until it is either answered by one of them or times out. If it times out due to no answer/extensions busy, it will be directed to voicemail.
Here's one more. This example from a doctor's office is similar to the previous one, but slightly more complex: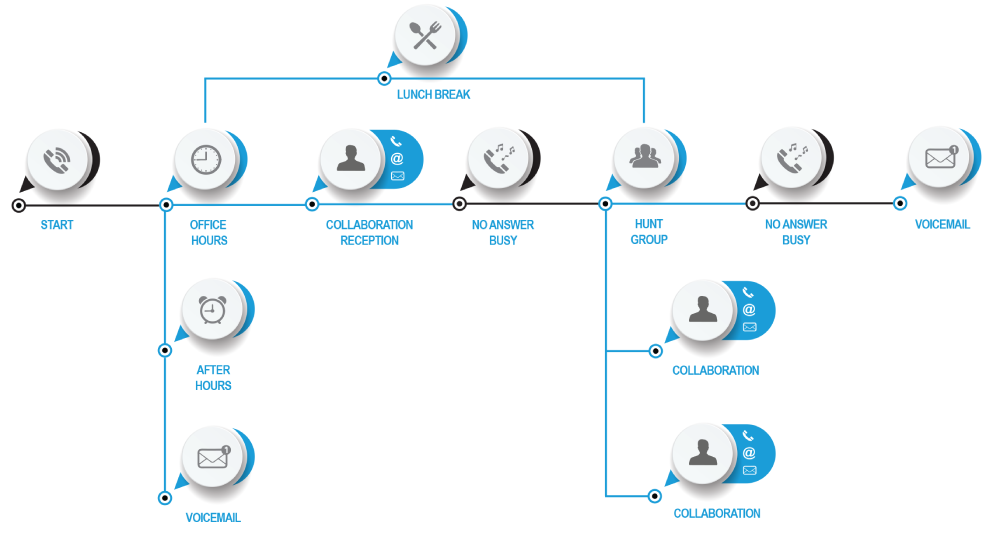 In this call flow, the office has designated hours for a lunch break in which they know reception will not be available to answer calls. When calls come in during this time, they skip the reception extension and are automatically directed to a hunt group. You can also see that incoming calls are directed to that same hunt group when reception is busy/already on a call. This increases the chances that someone is always available to pick up an incoming call, which is quite important if a patient is ringing for medical assistance.
As shown in these examples, companies should take a step back and really try to visualize their customers' journey from start to finish, and with multiple variables. By considering all options, you'll be able to create an optimum calling experience for your business that addresses your customers' unique needs.
Setting up your calling experience
With VoIP solutions like Voyager Voice, businesses have heaps of options when setting up their call flow. The phone system makes it easy to get a slick, professional service that offers a gold standard when it comes to customer experience.
"When we switched our telephony to what is now the Voyager VoIP System - about 8 years ago, we immediately achieved the standards of customer service we aim to provide - and saved money! The freedom and flexibility the system provides - without a clunky old PABX- is impressive and, although we totally under-utilise the capability of the Voyager system we do recognise that it has enormous potential for efficiency. I would recommend Voyager as the cutting-edge market leader with a great (patient) support service for Dummies." -Philip Selwyn, Director – Operations, Best Blooms Ltd.
The experts at Voyager take the time to get to know you and your business by asking you what kind of customer experience you want to provide and how you hope to achieve it, and then make recommendations on what your call flow should look like. And we even go one step further – we'll set it up for you, plus manage any changes you want to make to it.
Give us a shout on 0800 4 SPEED or email [email protected] to see what Voyager Voice can do for your business.