The Top New Zealand YouTubers
With each passing year, YouTube continues to grow massively, with YouTube channels building huge audiences around every possible topic under the sun.
And in 2020 it is no different in New Zealand.
No longer limited by our remote location, our ridiculously fast unlimited broadband connections let us easily upload our content, and download whatever we're needing to create, or to be entertained for that matter.
Got The Best Broadband Around?
Check Your Address Now!
Check
While some celebrities or sports stars have tried their hand at transferring their fame and following over to YouTube, many of the biggest New Zealand YouTube channels are those who found their following on YouTube, either with persistance, or by accident!
Let's take a look at 22 of the top New Zealand YouTubers (many of whom you might not have heard of - despite several having become millionaires through their YouTube channels!)
1. McCreamy - 5,880,000 subscribers - 976,259,250 views
A professional Fortnite player, and full time gaming YouTuber / Twitch Streamer, McCreamy has built an impressive following of avid gamers, and seems likely to cross one billion views in 2020.
2. Fitz - 5,150,000 subscribers - 621,650,436 views
Kiwi gamer Fitz rose to fame putting out his comedy gaming videos, usually featuring his multiplayer game screen recording and swearing filled banter with his gaming mates - something that is very popular with particularly young male gamers. His following has continued growing as he has turned putting out these videos into a lucrative career. He is now living in Melbourne, Australia and continues to put out gaming content with a group of friends. (No example video here, as they're potentially all a tad too offensive - check out his channel if gamers swearing doesn't bother you).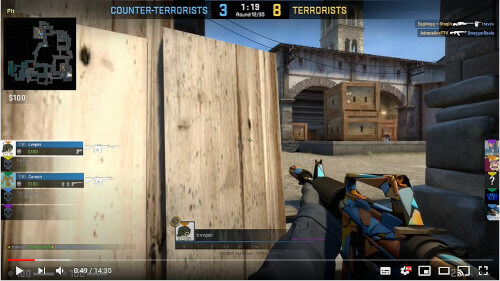 Ex-Shortland Street actor Bryce Langston is passionate about Tiny Houses and has been for many years. He built his own tiny home, and has travelled throughout New Zealand and the World filming interesting homes and interviewing their owners. His channel has become one of the leading Tiny House channels on YouTube.
4. Shirley Setia - 3,560,000 subscribers - 285,894,107 views
While born in India, Shirley has lived in New Zealand with her parents for most of her life. She graduated from the University of Auckland, and entered a YouTube singing competition with a video recorded in her parents basement. Her obvious talent and success there propelled her into the YouTube limelight, and her channel has grown ever since. This has clearly helped her gain publicity around the globe - and has enabled her to pursue a singing career and allowed her most recently to star in her first Bollywood film in March 2020.
5. LordeVEVO - 3,520,000 subscribers - 1,593,514,340 views
Probably one of the least surprising top New Zealand YouTubers for most people, pop singer Lorde has a large YouTube following - as well as the highest view count of any New Zealander I'm aware of at last count!
6. Shaaanxo - 3,150,000 subscribers - 454,983,284 views
New Zealand beauty and fashion vlogger Shannon has gathered a giant following on her YouTube channel, and shows no signs of slowing down any time soon. She covers makeup tutorials, funny beauty products from China, and all sorts of other content that appeals to her largely female audience.
7. Viva La Dirt Leaguea - 2,340,000 subscribers - 490,474,469 views
Another gaming inspired channel, but this one has much higher production values all round. Rather than relying on screen recordings and edgy banter, these guys film their own live action episodes of different gaming related stories, focusing in on funny gaming tropes like NPC behaviour, or strange multiplayer game logic.
8. Liam Thompson - 1,380,000 subscribers - 129,385,059 views
Now a full-time YouTuber at 20, Liam makes funny videos about all sorts of creative and weird things, such as teaching his dog to play Minecraft (currently at 15 million views). After his meteoric rise to YouTube fame, he quickly decided to pursue that full-time, ditching his other career options. Things seem to be working out well for him even at his young age, and while he's not rolling in mansions and Lambo's just yet, he has just bought his first Tesla and says he is living his dream.
9. LOGinHDi - 1,040,000 subscribers - 355,262,839 views
He makes music video animations and songs focused around the popular video game Roblox, and has even released albums on Spotify on the same subject. Reportedly a multi-millionaire at 23 from his efforts, he's no doubt going to continue putting out more content to continue owning that space.
10. Joseph's Machines - 1,030,000 subscribers - 279,835,791 views
As he said in a recent video, around 12 years ago he posted his first strange machine video, that went unexpectedly viral - and it has changed his life forever. He's gone on to create loads more funny inventions, and he's had hundreds of millions of views as a result.
11. ThePalaceDanceStudio - 919,000 subscribers - 214,079,012 views
A world famous hip hop dance studio based in Auckland, they've posted videos of heaps of dance events, dance classes, and other content on their YouTube channel that interests their audience. I'm sure they've had plenty of referred business to their dance studio as a result! Many of their top dance students go on to perform on stages around the world as part of acclaimed hip hop shows.
12. Jimi Jackson - 901,000 subscribers - 211,748,487 views
Often playing the part of multiple characters in his Kiwi comedy skits, Jimi Jackson has built up a large YouTube channel of fans from New Zealand and around the World.
13. Tyceno - 889,000 subscribers - 140,237,096 views
Another professional gamer, and YouTuber / Twitch Streamer, Tyceno puts out mainly NBA2K21 and Fortnite game play on his YouTube channel. He's no stranger to streaming to tens of thousands of fans watching his games.
14. How to DAD - 799,000 subscribers - 91,721,314 views
A world famous Dad from New Zealand, he makes all sorts of wholesome funny videos, mostly about being a dad - and often featuring his kids. People clearly love his down to earth Kiwi dad style, and he's apparently been getting more than a few requests to front various ad campaigns over recent years.
15. Indigo Traveller - 779,000 subscribers - 80,518,701 views
Quite different to all the other top New Zealand YouTubers we've talked about, Indigo Traveller visits numerous war-torn countries and other regions that are usually portrayed in a bleak manner in the media (often for good reason). He aims to show a different side to these places, such as the more human stories, while acknowledging that they often are dangerous places full of tragedy.
16. Hello Future Me - 712,000 subscribers - 84,606,236 views
This YouTuber covers diverse topics such as writing, world building, class systems, fantasy novels, lore in roleplaying and video games and the like.
17. Recipes by Carina - 562,000 subscribers - 76,848,626 views
A professionally trained Chef, Carina is very obviously skilled in the kitchen. She creates a wide range of recipes and guides the viewers through making each with well filmed and edited videos.
18. YANG Edwin - 450,000 subscribers - 172,676,717 views
Next up, someone proving it is possible to build a giant audience and hundreds of millions of views around even the most surprising of topics…. in this case, crowing roosters. It looks like they're branching out into filming other animals found in New Zealand, but the vast majority of the videos are of hens and roosters (including the below rooster crowing compilation, that currently has 106 million views…)
19. Angry Sonic - 437,000 subscribers - 230,562,362 views
This guy apparently covers all things Sonic The Hedgehog. Obviously a super fan of the franchise! And apparently he's not the only one, with hundreds of millions of views of his videos so far, covering Sonic video games, toys, and other collectables.
20. Woodward English - 435,000 subscribers - 32,350,341 views
Rob is a Kiwi teaching the English language to millions of people around the world via his YouTube channel.
21. Angry Ram - 358,000 subscribers - 161,270,142 views
The legend that is Angry Ram. Somewhere out in remote NZ backcountry, this creative kiwi YouTuber has uploaded videos of the local aggressive ram attacking all sorts of equipment. He also showcases free power generation using old washing machines as a water wheel turbine, and woodworking projects.
22. Scott Brown Carpentry - 188,000 subscribers - 30,848,829 views
And just to prove it's not all gaming and weird animals that get internet views, here is an enterprising carpenter based out of Auckland, who films his carpentry work, teaches his subscribers how to build things, and reviews tools. I bet he has had plenty of business as a result of all those millions of views, not to mention the ad revenue and other opportunities that come from such a significant amount of watch time!
Inspired yet?
I hope you enjoyed this deep dive into all the weird and wonderful kiwi youtubers out there!
Maybe you'd like to put together your own YouTube channel?
Or maybe you're all about YouTube and the glorious internet for your entertainment. I know I am!
Either way, make sure you've got an ultra fast unlimited broadband connection to enjoy it!
Stay tuned for more content featuring Kiwi's doing awesome stuff online!
Got The Best Broadband Around?
Check Your Address Now!
Check