Christchurch Escape Rooms Keep the Fun Going with Voyager
The joy of escaping
For Dan Varcoe, Director of Escape Artists Christchurch, puzzles are more than just a hobby; they're a passion. And he's turned that passion into a living that has allowed him to share it with Christchurch residents and visitors, old and young, families and couples, friends and workmates, and everyone in between – through unique, challenging, themed escape rooms.
"Doing an escape room is more than just a game," says Dan. "It gives you that feeling of accomplishment, a collaborative achievement. Often, people are good at solving isolated problems, but an escape room requires different ways of thinking for a team to be successful. When you bring groups of people with their individual ways of thinking together, that feeling of winning is so awesome – you can't replicate it any other way. I love bringing that to people. That's why I do it."
The first escape room in Christchurch (and the fifth in New Zealand overall), Dan and his wife established Escape Artists in 2015 after experiencing their first one overseas. "We just thought it was so much fun, and we decided someone needed to bring it to Christchurch," says Dan.
Their feeling was right. Since opening, Escape Artists has grown significantly, going from their original forecast of 50 guests per week to hosting nearly that amount in just a single session. They've doubled in space and have just moved into a brand-new premise in the CBD. "We initially estimated that we would open four days a week, for about 30 hours a week," says Dan. "We quickly realised there was demand, so we went from having one room to running six rooms at a time, with six people per room. We're now open seven days a week, from 10am-10pm, and have seven employees."
A need for speed (and reliability)
A hands-on guy, Dan is heavily involved in designing and building the rooms, in addition to running the business overall. That's why having simple, easy-to-use telecommunications solutions is key. And they absolutely must be reliable. For that, they partner with Voyager for their broadband and voice needs.
"We are fully reliant on the internet for a good customer experience. Every step along the way, there's a connection to our Voyager solutions that can't fail" says Dan.
"If our broadband isn't working, we can't talk to customers or book them in. We can't run our games or communicate with the teams in the rooms. All of our rooms are reliant on data: we run touchscreens and timers that are connected to our servers. We remotely log into our cameras to monitor if teams need help. We can't take payment, start a game, watch a game, and we can't even take the team photo at the end unless our internet is working."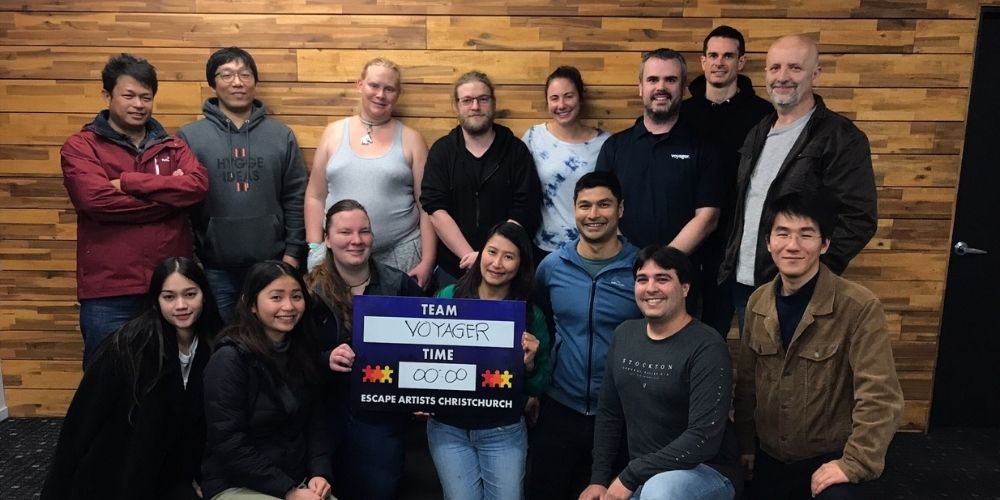 Tools for success
Escape Artists has been using Voyager from the start. "After researching, I realised that business broadband is very different to residential," says Dan. "If something goes wrong at home, there's not much sense of urgency. But if something goes wrong at work, it always needs to be fixed quickly. I came to understand that what's key with business broadband is the priority service and support, especially as provided by Voyager."
Escape Artists also uses Voyager Voice for their phone system.
"At the start, VoIP was foreign to me," says Dan. "I thought all phone lines were the same, but the team at Voyager taught me about the advantages of VoIP. It's been awesome to just plug in our phones and have them ready to go, especially being able to add another user without re-wiring or anything."
Dan also enjoys the flexibility of being able to take work calls from home, which he can do simply by taking his desk phone home and plugging it in. "I can help out from home when it gets busy," he says. "This makes it easier to meet our customers' high expectations of communication. Then when I go back into the office, I just bring my phone back and plug it in again."
Additionally, Voyager Voice enables a custom call flow, which has been designed to suit Escape Artists's specific requirements. Dan wanted every phone call to be answered by a real person, without every phone in every room ringing constantly. "We're not always sitting at a desk, so we needed a phone at every point one of our staff is likely to be, but also for it not to be obtrusive or bother customers."
Voyager worked with Dan to determine how many phones he needed, who was going to operate each phone, and who was the most likely to answer a phone at given times in order to design a call flow that would ring in specified locations for designated periods of time. "It was made easy for me," Dan laughs, "though I don't know how easy I made it for Voyager!"
A lasting partnership
Dan has been so pleased with Voyager, he even uses them for his home broadband, too. "I've tried 3-4 other providers, and the speeds with Voyager are always better. There's only been one issue in five and a half years, and Voyager were really proactive in helping with it which meant we weren't offline for long and our customers' experience wasn't affected."
And just as does for his own customers, Dan values the personal support he receives from Voyager, where every phone call is a real, human interaction. "If I ring a company, I just want to be able to speak to someone, the same way we treat our customers," he says. "No other telco besides Voyager has really appealed to me."
By putting such care and thought into his own customers' overall experience, it's no wonder Dan has built a successful business. And the beauty of Escape Artists? "Whatever people think that we are, we are," says Dan. "Different groups of people see us as different things: sometimes we're something to do when they're bored, some think it's a great team building activity, others think it's a great date night or family outing. We are all of those things – and more."