An ONT (or Optical Network Terminal) is a small device that is attached to the wall of your home or office, which allows you to get connected to Fibre Broadband.
The ONT is what allows the Fibre optic cable to be connected from inside your home, out through your property and to the fibre network in the street essentially.
This then ultimately connects back to your internet provider, allowing you to connect to the wonderful internet!
The humble ONT does vary slightly depending on which region you're getting connected in, and which infrastructure company is doing the installations.
For example, if you're in Christchurch, it will be a service technician installing an ONT on behalf of Enable – whereas if you're in Auckland, they'll be installing for Chorus.
Essentially however, the ONT will be very similar regardless – it performs largely the same function, connecting to the fibre termination point next to it, which in turn is connected out to the fibre network in the street.
This allows you to plug your router into the ONT, and begin using your Fibre broadband service.
Does an ONT require power?
Yes ONT's do require power, and when installed by the technician they will include a small power adapter.
If you're just moving into the property, make sure your ONT still has it's power adapter, as sometimes previous tenants will mistakenly take the ONT power adapter with them when they move out, while bundling up their own router and all their other assorted power adapters.
If you discover your ONT's power adapter is missing when you move in, just let us know when you're placing your order and we'll arrange for a replacement to be couriered out to you asap.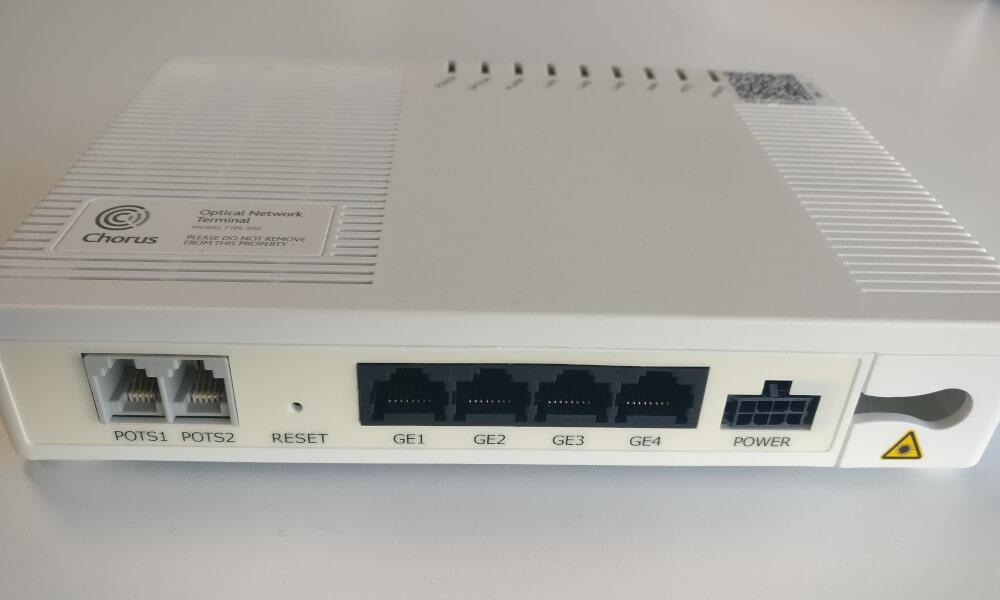 Where on the ONT do I plug my router into?
Unless there is already another Fibre broadband service running on the ONT, you'll likely need to connect your Routers WAN port into the LAN1/GE1 port on the ONT.
If there is another connection already provisioned on the ONT (for another tenant for example), your provider may activate your connection on LAN2/GE2 (or LAN3/LAN4 in rare situations).
How do I connect my phone into the ONT?
Some providers activate their voice service (VoIP) on the POTS/TEL port on the ONT itself, while other providers including Voyager activate the voice service on your router's ATA "Phone1" port (instead of using the ONT).
If your provider is using the ONT for their voice service that you've ordered, you'll be able to plug your normal phone into the POTS or TEL port on the ONT.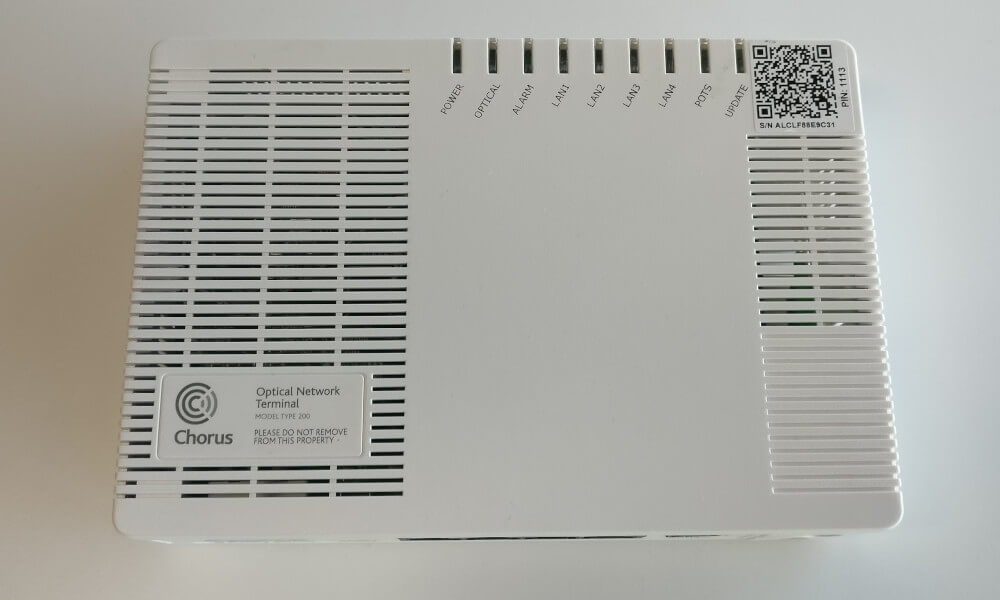 What do the ONT indicator lights mean?
On the front of the ONT you'll see several LED indicator lights, which display the following information:
Power light:
No light = No power to the ONT
Solid Green light = Powered On
Optical/GPON light:
No light = No active service on this line.
Solid Red light = Issue detected, contact your internet service provider.
Solid green light = Optical signal is good, and service is available.
Flashing green light = Optical signal is good, and the service is being used.
LOS light:
No light = Normal operation.
Solid red light = signal issue, contact your internet service provider.
Alarm light:
No light = No issues detected, and ONT is working as expected.
Solid Red light = ONT problem detected, contact your internet service provider.
Solid Green light = No issues detected, and ONT is working as expected.
LAN1-4 lights:
No light = No service connected on this port. Ensure your router is plugged into the correct LAN port.
Solid yellow light = Connection provisioned and live on this port.
Flashing yellow light = Connection live, and currently being used.
POTS/TEL lights:
No light = No voice service provisioned on this ONT, or phone is currently hung up.
Solid green light = Voice service is in use, or the phone is off the hook.
Flashing green light = Alert that the phone's been off the hook for an hour or more.
UPDATE light:
No light = Normal operation, no ONT update occurring or update issues encountered.
Solid Red light = ONT update has failed, contact your internet service provider.
Solid green light = ONT is updating.
Additional ONT lights:
Some more modern ONTs will also include lights relating to the following:
WPS
WLAN 2.4G
WLAN 5G
USB
Internet
However these are not widely in use in New Zealand at this stage.
Some providers will choose to activate WiFi and broadband authentication directly on the ONT, rather than using a Router with it's own WiFi which is more common practice. This is largely what these lights refer to.
If my Fibre broadband stops working, should I do something to the ONT?
We're so used to rebooting our devices if we run into issues, whether it's a phone, a computer, or a router – but ONTs are normally a different story.
The ONT is usually a very reliable piece of equipment, and if your internet stops working, it's much more likely that the issue lies with your router, your computer/device, or more rarely an issue with your internet provider.
It is not recommended to switch your ONT on and off unless asked to by a helpdesk person, and you definitely shouldn't be trying to take it off the wall to inspect or relocate it. Moving the ONT can actually damage the fibre optic cable.
If you're having connectivity issues at all, just contact your internet provider's support team, and they should be able to help get you back up and running in no time at all.
Where can an ONT be installed?
If you don't already have a Fibre ONT installed in your home or office, a technician will need to visit to agree upon an installation plan with you, and that will include the location of your ONT.
If you have a preferred place that you'd like the ONT to be installed, perhaps where you like to keep your router for instance, they'll be able to advise whether that is possible.
The technician will be trying to identify an ONT location which is relatively straight forward to get the fibre to, while also keeping the property owner happy with it's appearance and placement.
In my case I had already installed a comms cupboard with power, to house my router and other equipment out of sight, so I agreed with the technician that the fibre would be run up into the roof space from the side of the house, across through the roof space, and down into the cupboard. They just used some capping to cover the fibre down inside the cupboard, which suited me fine.
If you're wanting to have complex cabling hidden in wall cavities etc, you'll need to sort out this ducting yourself.