The installation process for fibre depends primarily on your property type. That is, if you live in a standalone home (single-dwelling unit), an apartment (or other multi-dwelling unit), or on a shared driveway.
Fibre has rapidly become the most requested broadband type across the country over recent years, and for good reason.
It's high speed, dependable reliability and competitive price point make it easily the best broadband choice for most Kiwis.
So let's take a look at the various fibre installation processes – depending on your home or business property type.
Important Notes:
We're assuming here that you don't already have a Fibre ONT installed (if you do, you'll be able to get connected remotely right away)!
Keep in mind that there can be different specifics that alter the process for unique cases, but generally speaking, this is how fibre installs work in NZ!
Standalone Home (single-dwelling unit, or SDU)
This is usually the easiest type of property to get fibre installed to – and in most cases can be completed in around 4 hours.
Once you've checked that you can get fibre at your address, and placed your order, you'll get an install date sent to you via email – and this will specify whether your install appointment is in the morning or afternoon.
On the install date, the technician will phone you (or the site contact you've specified on your order) to confirm that you're still available to meet them on-site, and provide access to your property.
These days most homes can get fibre connected in a single visit!
Some addresses may need to have an initial scoping visit so an install method can be agreed upon, and a second visit at a later date to install the fibre – but these situations are much rarer than they used to be.
You and the technician will then agree upon the best install path for your property.
For example, this might be running the fibre from the boundary down the underside of the fence, then through a shallow trench to your house, through a wall or into the roof-space, to where your ONT will be installed inside your home.
The technician will then do the build work – connecting fibre from the network in the street to a small box installed on the outside of your home, called an ETP (External Termination Point).
They'll then run fibre into your home through the agreed method, and connect it to an ONT inside your house at the agreed location.
From there, they'll power the ONT on, and test that everything is functioning as expected.
They'll also make sure that they have reinstated anything they've had to alter on your property – for example holes in the lawn.
At this stage you'll be able to plug in your router provided, and should be up and running!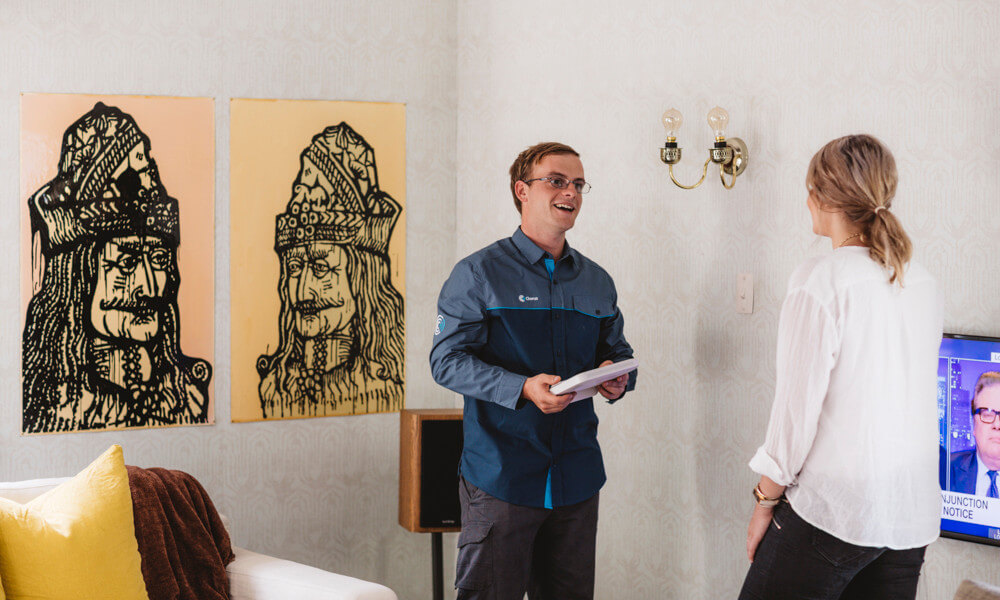 Home on a Shared Driveway (Right-of-Way or ROW)
Another very common housing situation in New Zealand is of course the shared driveway or other private road.
If one of your neighbours has already previously ordered fibre, then chances are that you and all the other residents can get connected very easily, as the shared driveway would already have had any necessary fibre infrastructure installed, to allow any subsequent resident to get connected quickly and easily.
If that is the case, your fibre install process will look very similar to the standalone home installation – see above!
Alternatively if you are the first resident on your shared driveway to order fibre, and it hasn't previously had any fibre pre-installed (which is done on some subdivisions), then your installation will be a bit more involved – though thankfully Chorus (or other regional fibre installer such as Enable, UltraFastFibre, or Northpower) will handle most of this for you.
The first thing they'll typically need to do is visit your location and make sure they understand the scope of work required to provide fibre to your shared driveway.
They'll also agree with you the install path into your home, and where your ONT will be installed.
This fibre build work will mean that you can get connected – and any other resident can choose to get fibre in future and get connected easily.
Next they'll kick off the fibre consents process. In most cases this essentially means they need to advise all the residents of their plan to install fibre down the shared driveway or private road, and allow a few days for any objections to be raised.
In rarer cases which will have higher impact, they will need to gain consent from all property owners before they can proceed.
Now they can do the build work, installing the fibre down the shared driveway, so that each home can very easily get connected in future if they wish.
And lastly, they'll run the fibre into your home, to install your fibre ONT at your agreed location.
They'll test that your ONT is operational, and that your fibre broadband is ready to go.
And finally they'll ensure that they're leaving your property in a good state – for example if they dug a trench across part of your lawn, they should refill it with dirt, and cover it with grass-seed.
Apartments (and other multi-dwelling units or MDU)
Similar to right-of-ways, the fibre installation process when you're living in a multi-dwelling unit such as an apartment or retirement home unit will involve other parties to some extent.
If Fibre infrastructure has already been installed to each floor of your apartment block, this will mean you'll likely just need a quick visit from a technician to install your Fibre ONT, and to connect fibre on that floor to your ONT.
If that is the case you'll be up and running very quickly on your scheduled Fibre installation date.
However if your apartment block hasn't previously had anyone connect to fibre, when you place your fibre order this will mean that Chorus (or other regional Fibre installer) will look to run fibre broadband into the building, so that you can get connected – and any other tenants can easily connect in future if they wish.
They will firstly need to visit to check how the building and property are set up, and will discuss with the landlord or property manager what the best method of fibre installation will be.
They'll likely need to ask the building owner contribute to the cost of installing this fibre infrastructure – which most landlords are willing to do, as their building can from that point on provide their tenants with ultra-fast broadband.
Next they will kick off the mdu consents process, essentially categorising the impact of the work required and notifying all residents of the work about to take place.
If everything is okay to proceed, they'll start the build work – installing fibre from the street into the building, and making it available to each floor.
From there, you'll get a scheduled connection date email, and on that date you'll get a call from the technician to make sure you're on-site to let them in.
They'll simply connect fibre now available in your building to your apartment, and install a fibre ONT.
A quick test of the ONT, plug in your router, and you're up and running with ultra-fast broadband!