Netflix NZ vs Neon
New Zealanders are continuing to flock to on-demand streaming services like Netflix for their entertainment in 2020, and will no doubt continue to do so into 2021 and beyond in increasing numbers.
And it comes as no surprise to those of us who are using these services.
After all, we can choose from a seemingly endless array of fantastic TV series and movies, which are constantly being added to - and watch as and when we want to. And yes, binge watch entire seasons of our favourite shows from time to time!
Aside from the giant Netflix, various other contenders have been establishing themselves - either setup locally specifically for the New Zealand market, or arriving on our shores as other international streaming services expand their reach.
One such local contender is Neon, but how does it stack up against Netflix?
Let's take a look at the pros and cons of each!
Got The Best Broadband Around?
Check Your Address Now!
Check
Netflix NZ
First things first - as is widely published, streaming services usually do distribute a specific range of content for each region, for a variety of reasons.
This is often because other companies already have distribution rights to those TV shows in other countries.
This means that Netflix in the USA is very different to Netflix in NZ, and different again in other countries around the world.
It's something which is often criticized, though personally I've never been overly worried by it - there remains far more present in the Netflix NZ catalogue than I could ever watch! But I understand why some kiwis would be upset that their favourite shows don't end up making it to their Netflix account for sure.
It's a complex problem, as anything which is impacted by worldwide Copyright and Distribution laws and agreements usually is.
Hopefully over time as broadcast TV continues to fall in popularity, and streaming on-demand services continue to take over some sort of better solution can be found to bring the maximum amount of amazing content to every countries screens.
Regardless of the difficulties there, Netflix NZ remains an extremely popular platform, and for good reason.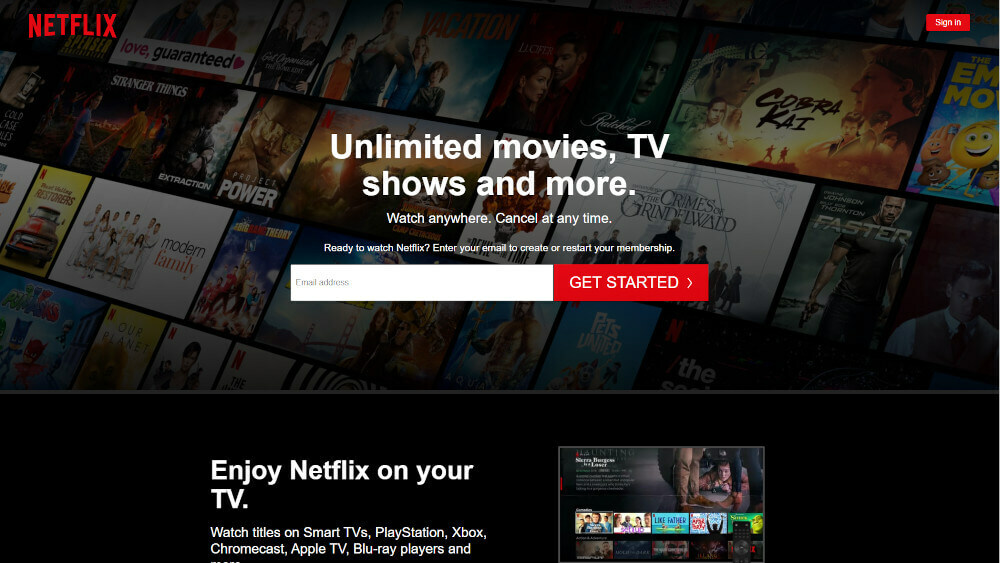 Catalogue of TV Series and Films
As of June 2020 the New Zealand Netflix catalogue apparently has a total of 4635 titles, including 3206 films and 1429 TV shows.
Where to start… there are so many fantastic films and shows available, as well as an ever growing library of amazing original content.
While personal fav's are extremely subjective of course, some recent notable favourites of our team are:
Stranger Things
Ozark
Dark
Schitt's Creek
Black Mirror
Peaky Blinders
Fargo
Rick and Morty
Netflix NZ Plans and Pricing
Basic:
Stream in SD (Standard Definition).
On up to 1 Device simultaneously.
$11.99 / month
Standard:
Stream in up to HD (High Definition).
On up to 2 Devices simultaneously.
$16.99 / month
Premium:
Stream in up to 4K Ultra HD.
On up to 4 Devices simultaneously.
$21.99 / month
Pros
Giant catalogue of TV shows and Movies.
Netflix app is available on web browsers, most modern smart TVs, Chromecast, iPhone and Android devices - basically everywhere you'd want to watch.
It's easy for everyone in your household to share the same Netflix account and watch on all their devices, when subscribed to the appropriate plan.
Allows for downloads of content to devices for offline viewing (handy when on flights from my experience).
Cons
Many people (myself included) will need to go for the most expensive Premium Netflix plan purely for the 4K Ultra HD resolution to make the most of our 4K TVs.
Due to regional distribution agreements, some popular content from the Netflix US catalogue is not available on Netflix NZ catalogue.
Despite a relatively low cost subscription, having multiple monthly subscriptions to various streaming services does add up on an annual basis.
Neon
Launched by Sky in New Zealand in 2015, to coincide with the launch of Netflix in NZ, the primary drawcard of Neon is that they have exclusive distribution rights to HBO content, including many hit shows, such as Game of Thrones, Westworld, Chernobyl, Watchmen and others.
After recently purchasing competing streaming service Lightbox, this was then merged into Neon in mid-2020 - dramatically increasing their user base, and also increasing the range of content available.
You're able to watch on up to 2 devices at the same time with one Neon account.
In addition to the large collection of movies and TV series available as part of your Neon monthly subscription, you can also choose to pay to "rent" specific latest release movies, before they are eventually added to the main subscription content catalogue.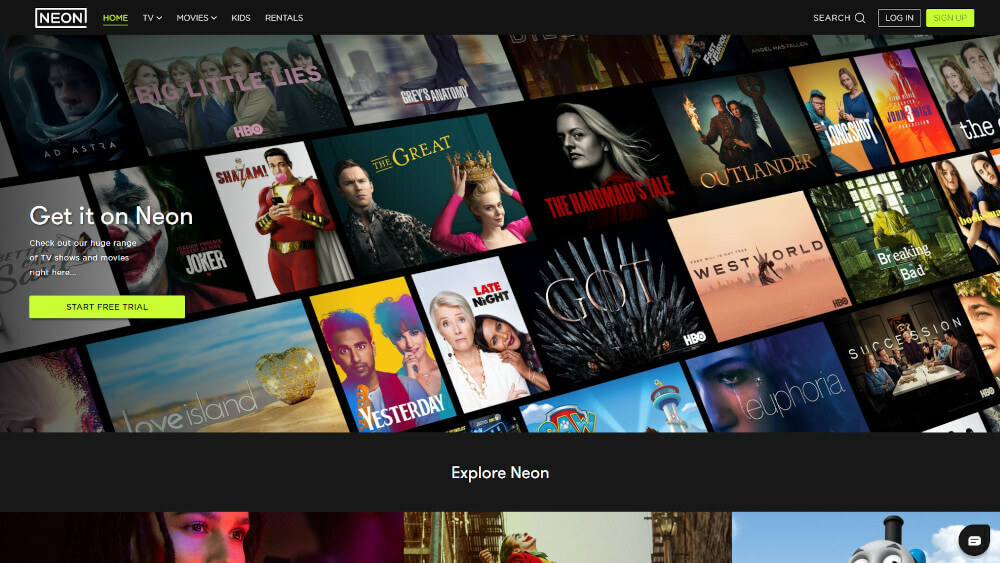 Catalogue of TV Series and Films
Neon offers several series that are huge hits (both new and old), and some of the most noteworthy are:
Game of Thrones
Westworld
Chernobyl
Watchmen
The Wire
Breaking Bad
Better Call Saul
You can view the complete Neon TV Shows catalogue here, and the complete Neon movie catalogue here.
Neon Plans and Pricing
A Neon subscription costs $13.95 / month.
HD content is available, but no word yet on 4K content unfortunately.
It allows for up to 2 devices to stream content at the same time.
Pros
Exclusive NZ rights to HBO content like the acclaimed shows mentioned above - this must surely be the primary reason people signup to Neon.
Slightly lower price point for 1080 HD capable plan than Netflix.
Can download content to devices for offline viewing.
Cons
Lack of 4K resolution support.
Only 2 x devices can play content simultaneously using the same Neon account.
As with Netflix, despite the low cost of subscription, having many such subscriptions definitely adds up each year. Something to keep in mind.
So should you choose Netflix or Neon?
Ah yes, the million dollar question.
In my opinion, Netflix is the better option in NZ on-demand streaming services right now - despite it's regional content limitations for New Zealand.
It's still got a fantastic library of entertainment for us, has options to allow whole households to use the same account, and their beautiful 4K Ultra HD content looks awesome on our TVs and other 4K devices that are becoming more and more popular.
However that said, some of Neon's outstanding HBO shows are my all time favs…
Many people do end up getting both subscriptions for this reason - and the fact that neither platform locks you into a long term contract does mean you're free to jump in to both and try them out for a month or two to see which you actually end up watching more of.
Be warned however, once you (and your household) get a taste of what they have to offer, it's likely you'll be convinced to keep your subscription!
Got The Best Broadband Around?
Check Your Address Now!
Check